What is Netafim anyway? Netafim is now a global company that pioneered drip irrigation back in the mid-1960s in Israel.  Netafim is a brand name, but we sprinkler guys use the word as a common noun, like Kleenex or Q-tip.
Netafim™Techline® is  tubing made of rugged polyethylene plastic. Pressure compensating emitters are welded to the inside wall in  spacings of 6″, 12", 18", and 24" apart. It comes in 12mm and 17mm diameter. We use the 12mm tubing with the closer 6″ spacing for smaller, sandier, or more densely planted  beds. There are four choices of emitter flow rate in gallons per hour: 0.26, 0.4, 0.6, and 0.9. We choose the flow rate depending on micro-climate factor, soil texture, and slope.
The pressure compensation ensures you're getting the same flow from each emitter from the beginning of the zone to the very end, unlike soaker hoses that start strong and peter out at the end. The Netafim zone MUST be correctly designed for best results, but you can irrigate large areas with lower pressure than needed for sprayheads.
Other great features of Netafim are the self flushing dripper design and built in root barrier- I can't recall ever having to replace clogged emitter sections.
Netafim dripline is great way to efficiently water plants. This photo shows a slope installation, where the rows are spaced further apart as you go downhill. Rows are spaced tighter on flat beds, and the spacing depends on soil type as well. Sandier soils require closer rows.
The tubing is installed on the soil surface with staples, and mulched over. If the bed is already mulched, we scratch in the tubing a few inches.In order to achieve good coverage and soil saturation, the tubing is laid out in an evenly spaced grid pattern.
Depending on the soil type the row spacing varies from 12-18″.  Netafim is a better way to water dense perennial beds where sprayheads get blocked or grown over. Water is not wasted misting in the air or saturating mulch before reaching the soil. It's also good for high traffic areas where sprayheads get kicked or damaged.
Netafim is NOT a good choice for annual beds, or beds that are constantly dug up, harvested, weeded with a pitchfork (yikes!) etc. You would have to be prepared to make many of your own repairs if you plan to dig a lot in these beds.
Netafim obviously doesn't work well in rockeries or uneven surfaces where it's hard to conceal. One of the most common complaints about Netafim is that if it's not properly buried or stapled, it will  surface and be visible.
You can see we used a very tight row spacing in this parking strip to establish this ground cover. This client won't have to worry about broken or run over sprayheads. Water won't be wasted spraying into the street or sidewalk either.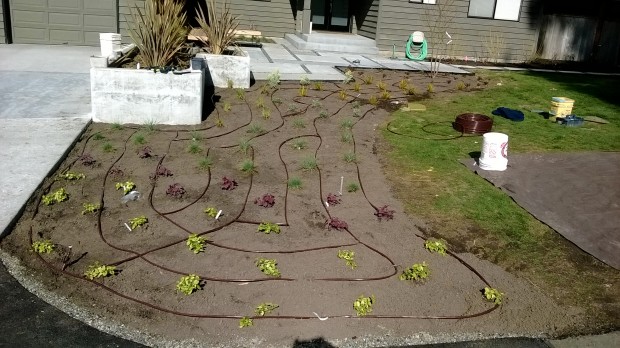 Before and after mulch.